About ECS
First in Quality. First in Customer Service.
Electric Coil Service (ECS) is a leading provider of replacement electric coils, serving our commercial and industrial partners since 1951. ECS' commitment is simple: produce electric coils that work precisely and deliver them on time, every time.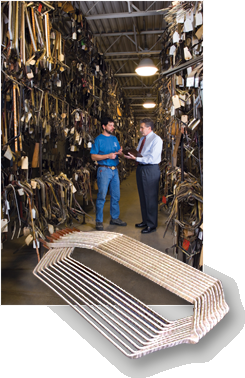 ECS' 32,000 sq. ft. plant is dedicated solely to making coils for your motor repair needs. Our technicians have years of extensive experience working with all types and sizes of stator and armature coils. Every member of the ESC team is satisfied only when we deliver the finest replacement coil available.
Independently owned and operated, ECS' unique approach to customer service has made it a valued partner to many long-term customers. ECS offers these advantages:

ECS tests EVERY coil it produces, rather than performing random testing on some coils. We ensure that you can rely on the coil we deliver.

We offer 24-36 hour shipments on most emergency orders. ECS can ship your coils quickly and on time.

ECS is all about quality and service. ECS coils meet or exceed original equipment specifications. Your coil specs can probably already be found in our vast inventory.
For more than 60 years, ECS has built a reputation for excellence in coil replacement manufacturing and customer service. We have achieved that one coil at a time, one customer at a time. We invite you to CONTACT US and experience the ECS difference.
Quality Policy Statement
ECS specializes in the manufacture of electric motor formed coils of the highest quality, material and workmanship to minimize labor and downtime for electric motor winding shops.
The objective of ECS is to supply perfect fit coils of a quality that guarantees years of normal service. Our policy is to deliver the coils within a specified time and to achieve outstanding customer satisfaction. To achieve the above objective and satisfy the customer expectations, ECS is totally committed to implementing and maintaining the Quality Management System based on International Standard ANSI/ASQC ISO 9001:2015.
Quality problems arising in various areas are to be identified and solved with speed, technical efficiency and economy. We shall focus our resources, both technical and human, towards the prevention of quality deficiencies to satisfy the goal of "Right first time...every time."
The successful operation of the system reels upon the cooperation of personnel at all levels. Our commitment to quality will ensure the continued success of our Company, our staff and the satisfaction of our customers.
The Quality Coordinator is authorized to ensure that the requirements of this Quality System are implemented. Any problems that cannot be resolved between departments or personnel shall be brought to the attention of the President and General Manager for final resolution.